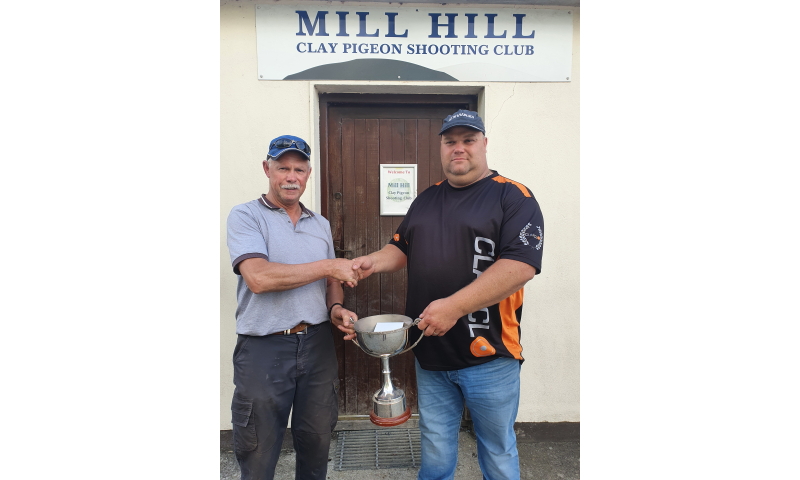 Sean McKenna Cup
The 2022 SMcK Cup was definitely a mixed weekend with some technical issues and very changeable weather it wasn't the most enjoyable day for the competitors or ground crew on Saturday. Thankfully with some traps swapped out and an improvement in the weather the 165 competitors that past true on the Sunday had a much more comfortable day.
On the weekend we had a super turn out and we sincerely thank everyone for their support.
Over the course of the two days the high gun score started on the Saturday afternoon with a 104, moving into the first half of Sunday there was a pair of 108's with Liam McDonnell and last years winner Gareth Simmons taking home very respectable scores. But as the afternoon moved on we seen Andrew McKeown on 109 and Matthew Duff with 110. At the days end there was only one other card of note from local man Colin Dunne that would make a difference to the score sheet and with a superb 112 x 120 Colin was to take the overall win for the 5th time in the competitions running.
Well done Colin.
Thanks again to all who took part and we hope you enjoyed your shoot around the 15 stands, it was a challenging event and hopefully everyone took something away from the course.Congratulations to all the winners in the classes, special mention to John Carroll of FIREPOWER who sponsored prizes for the winners in the 4 categories Ladies, Juniors, Veterans & Super Veterans…..this is very much appreciated and nice to see the support.
Thanks to Séamus and Jim at Silverline for keeping everyone fed and watered.
To the lads who helped out with set up the course over the previous weekends and the crew on the course, in the office and on the transport, it's always appreciated that you give up your time to help with the running of our events.
And finally it goes without saying, special thanks to Sean, John and the McKenna Family for the continued support and use of their land to which we are so grateful to have the opportunity to use each week.
Until next time.
Stay Safe
MH.