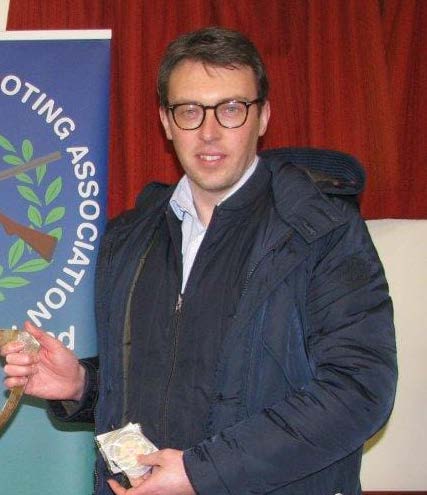 This weekend seen the First round of our 100 bird Winter Series and the challenge
for the overall high gun to take the Robert Cavanagh Cup, and Club member's High gun
the Robert Cavanagh Plate. After some VERY wet weather here in the last week it
wasn't clear what way this weekend would go but its and outdoor sport so it is what
it is.
There was a very limited number shooting on Saturday afternoon and although
it was dry there was quite a breeze to keep them on their toes and targets were
changing from shooter to shooter.
On Sunday morning the early part started out overcast and wet, but by 11am
the day had started to turn and eventually after trying very hard the sun made
a surprise appeared for the afternoon which seen "Wellies and
T-shirts" the fashionable look for the afternoon !
Over the course of the morning the score cards were showing totals in the early
to mid-80's, but as the weather improved so did the scores, and the late 80's
and early 90's starting appear on the sheet. In the top spot for the day with a super
95 was Andrew McKeown , followed by  David
Marshall on 92 and Wayne Morrison with 91 x 100.
Attached in the link where the full list of results for the event. "Results"
A table with classes and positions etc will be posted in the coming days.  
Thanks to everyone who turned out and supported the event and helped out in
any way before hand or on the weekend,, it is much appreciated.
We look forward to seeing you at the Second round on the 20th November.
MH.
23/10/2022