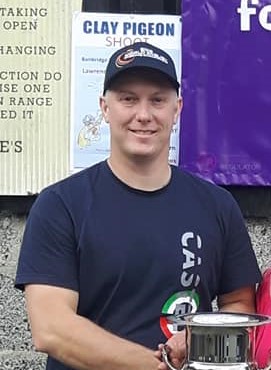 Thanks to everyone who turned out today and took part in this weekends second round of the Winter Series.
After another very wet week that left the ground very soft underfoot we were lucky with the weekend weather. It was a dull and cold start to the day but thankfully it was dry throughout and the sun did make a brief appearance.
127 guns competed today on a course that had a little extra shooting in it . From stand 2 it was released that even though most targets were in full view and easily seen, there was a twist of Speed, distance or angle to contend with but most seemed to have enjoyed the extra push required over the 14 stands. The addition of the Super sporting midway also created some chat in the clubhouse.
Today's top scores were 4 in the 90's,
Our own Maurice Cavanagh on a 91, Munster man Wayne Morrison with 92 and two regular visitors form North of the border, Andrew McKeown 94 and David Marshall with a superb 95. Both the 94 & 95 were outstanding as a 92 or 93 was though to be the high gun target for this technical course. 
Well done Gents.
The full results are in the link below, if there any any errors seen please send a Facebook direct message or email it to [email protected]
A combined sheet with the totals from both rounds will be posted in the coming days.
Thank you all again for supporting the event, thanks to Sean, John and the McKenna family for the use of their land and also the group who helped with the setup and running the shoot today, it is greatly appreciated.
The third and final round of the Winter Series will take place on the 22nd January 2023.
Until then stay safe.
MH.